Malawi
Related Topics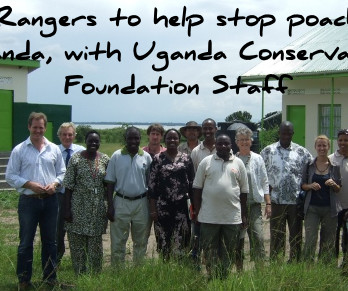 Are you fundraising for Africa? Read this!
Wild Woman Fundraising
JANUARY 23, 2012
I am so excited to present to you my interview with Charlotte Beauvoisin, who writes Diary of a Munzungu , a UK citizen working in Uganda. Her blog has been featured on Lonely Planet since 2009.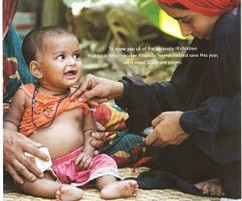 Effectively Communicating What Your Cause Really Does
Cause Related Marketing
MAY 10, 2011
Here's a post from Madalitso Masa, who, along with her husband works with about 100 families in Malawi in east Africa: "Many vaccinations took place this week as we welcomed three beautiful, healthy newborns into my community.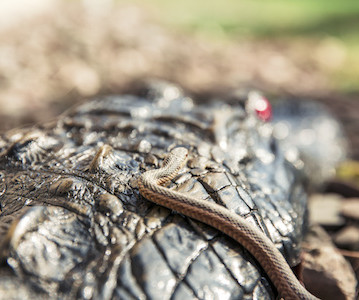 Why the only thing to fear is fear itself.
iMarketSmart
AUGUST 3, 2015
A couple of years back, the party was in Malawi, where three attempts to dig a well had all failed. I think nonprofits need to be more real. More genuine. Less formal. And, less afraid of being real and genuine.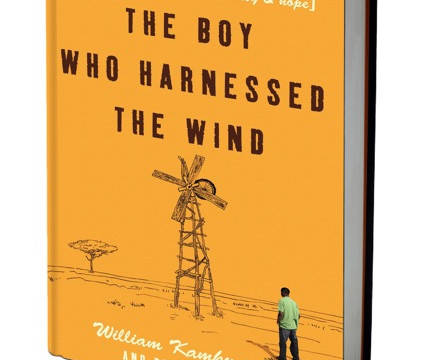 Telling the Story of Change
SocialButterfly
MAY 17, 2010
Tags: #read4change book club Malawi reading social change storytelling The Boy Who Harnessed the Wind William Kamkwamba wind wind energy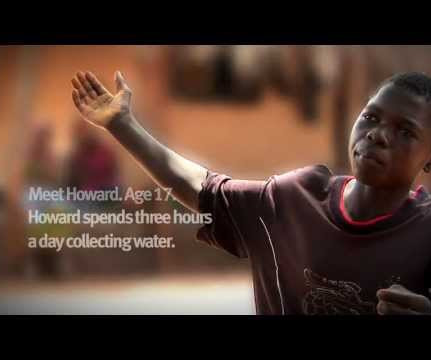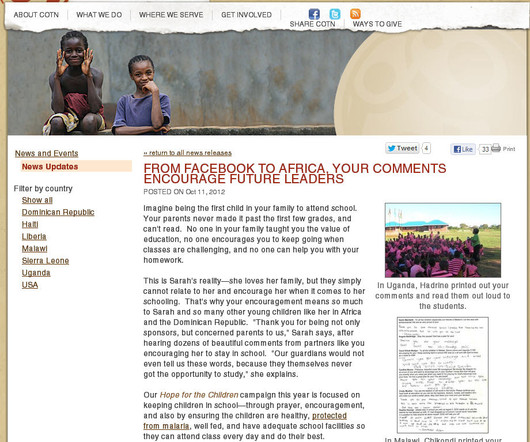 Fabulous Example of Facebook Engagement from COTN
Kivi's Nonprofit Communications Blog
OCTOBER 26, 2012
In Malawi, Chikondi printed the messages with blank space underneath where the students wrote replies. I've been working with one of my coaching clients, Children of the Nations , on their fall fundraising campaign, which they call Hope for the Children.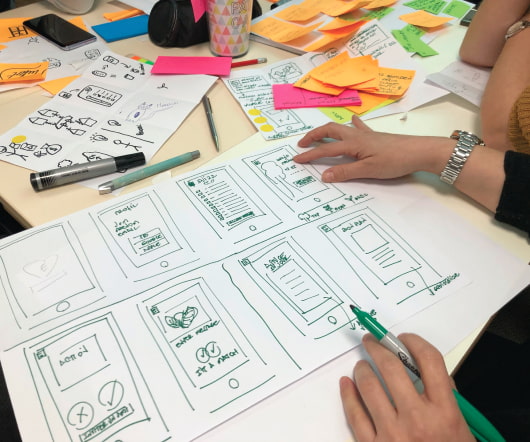 The Art of Cause Marketing
Cause Related Marketing
MARCH 8, 2011
25, 2010, an evocative piece called "The Resurrection of the Dead" by Frantz Zephirin , The New Yorker will donate profits from print sales to Partners in Health , a charity based in Boston serving health care needs in Haiti, Malawi, Peru, Rwanda and elsewhere.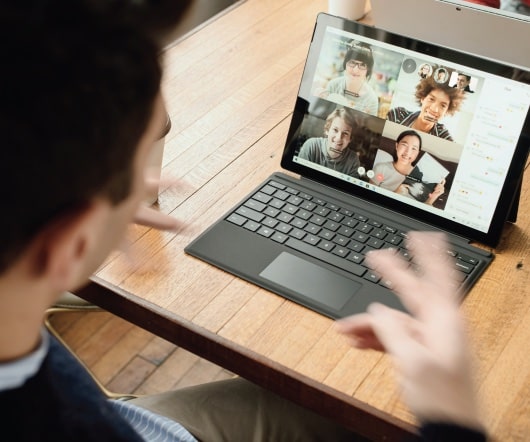 Social Marketing: A Six Volume Series
Social Marketing and Social Change
DECEMBER 11, 2012
Reduction of Childhood Malaria by Social Marketing of Insecticide-Treated Nets: A Case-Control Study of Effectiveness in Malawi - Don Mathanga et al.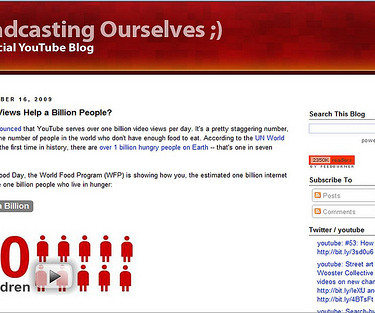 Your supporter is a participant, not an audience
Nonprofit Marketing Blog
OCTOBER 16, 2009
Visitors have the opportunity to 'join' one of ten real Malawi villages on the site and track its progress. As a nonprofit marketing person, I often talk to nonprofit groups about their "audience, but it's a bad word.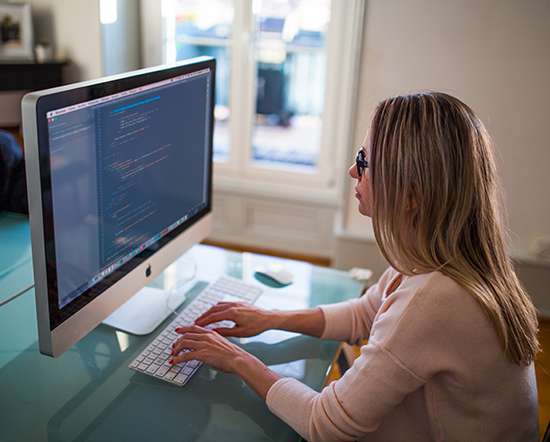 Social Models for Marketing: Social Networks
Social Marketing and Social Change
OCTOBER 15, 2009
Sexual network structure and the spread of HIV in Africa: evidence from Likoma Island, Malawi, AIDS , 21: 2323–2332. Over the past decade there has been a dramatic shift in the emphasis of determinants of health and social behaviors from individuals to networks and communities.